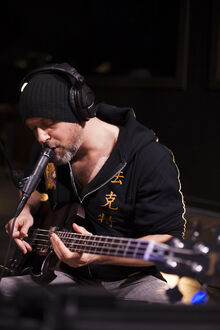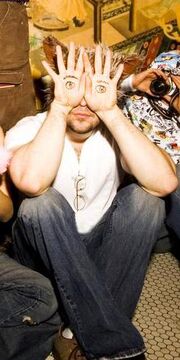 Tobacco
(born
Thomas James Fec
) is the vocalist and frontman of
Black Moth Super Rainbow
. Not much is publicly known about
Tobacco, other than he was born and raised in Pittsburgh, Pennsylvania, and that he graduated from Hampton High School in 1998 along with fellow bandmate Father Hummingbird. It is said that his name derived from "a character that freaked me out as a kid, the Tobacco Man", possibly referring to the character from the film Redneck Zombies.
Several of Tobacco's songs are featured in the HBO series Silicon Valley, including "Stretch Your Face", which serves as the show's theme song.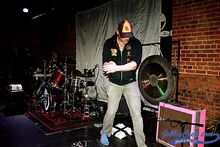 in 2017, Tobacco toured with Nine Inch Nails and opened for them on their September US tour
[1] Under his solo music project, he has released 4 studio albums and an EP.

Tobacco is known to be an avid Butthole Surfers fan, has a love of mini-golf (i.e. his mini-golf league Awesome Balls), and used to participate in BMX when he was younger. According to an old "Ask Tobacco" thread in the band's old message board, he broke his arm riding his bike, and during his recovery he became interested in making music.

He is also known to not enjoy most psychedelic rock or psychedelic music in general.
Tobacco Discography
Edit
Full-Lengths
EPs and Singles
LA UTI (LP) [2010]
Mystic Thickness (EP) [2010]
Collaborations
Exorcise Tape (Esorcizzare Nastro) (Rad Cult, 2013) (with Zackey Force Funk as Demon Queen)
Malibu Ken (Rhymesayers Entertainment, 2019) (with Aesop Rock as Malibu Ken)
DVDs
Podcasts
Remixes
ANTI-POP CONSORTIUM - Get Lite
AIR - Sing Sang Sung
HEALTH - Die Slow
BLACK KEYS - I Got Mine
SOLE & THE SKYRIDER BAND - Battlefields
GHENGIS TRON - Relief
SUBTLE - Gonebones
HEIGHT - Baltimore Highlands
ALIAS & WHY? - Well Water Black
RESTIFORM BODIES - Panic Shopper
LAURA BURHENN - Just For The Night
DOROSOTO - Emerald Building
HOLY FUCK - The Pulse
SHUGO TOKUMARU - Hidamari
References
Edit