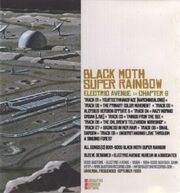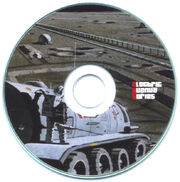 Electric Avenue: Chapter 8 was released as part of Duotone Records' (Japan) Electric Avenue series.
Electric Avenue: Chapter 8 was released in October of 2003 as a 3" CD-r (catalog number ea08) in Duotone's Electric Avenue series. Packaged in a mini jewel case, it is unkown how many units were produced.
Tracklisting:
Yourteethandface(marchingalong) (1:35)
The Primary Color Movement (2:21)
Aloysius Version Opposide B (3:37)
Hazy Morning Organ (Live) (2:36)
Things From the See (2:06)
The Children's Television Workshop (0:57)
Sadness in Her Hair (2:03)
Snail Garden (2:11)
Understanding Love Through A Singing Forest (0:36)
Trivia / Misc.
Edit
On the Black Moth Super Rainbow discography page around late 2003, there is stated to be a domestic release of Electric Avenue: Chapter 8 planned for the summer of 2004.[1] This domestic release never happened.
Duotone may have produced more copies of Electric Avenue: Chapter 8 around mid-2009. Some fans were able to purchase, directly from Duotone, a copy of the CD-r housed in a folded cardboard sleeve displaying the artwork.
References
Edit