Black Moth Super Rainbow is an american band hailing from Pittsburgh, Pennsylvania. Their musical style consists of elements of psychedelic, pop, and electronic influences. They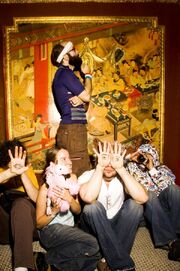 have released a total of 4 full-length albums, including a collaboration album with the band The Octopus Project, and a 'versus album' with Power Pill Fist.
The band now consists of Tobacco, The Seven Fields of Aphelion, D. Kyler, Father Hummingbird, and Ryan Graveface.
Band Biography
Edit
A Graveface Records insert included inside the album Dandelion Gum describes them as such: "Deep in the woods of western Pennsylvania vocoders hum amongst the flowers and synths bubble under the leaf-strewn ground while flutes whistle in the wind and beats bounce to the soft drizzle of a warm acid rain. As the sun peeks out from between the clouds, the organic aural concoction of Black Moth Super Rainbow starts to glisten above the trees."
Most of the albums released by the band are featured on Graveface Records. However, Tobacco's personal label The 70s Gymnastics Recording Company remains affiliated with all releases.
According to an interview with Impose Magazine in 2008, Black Moth Super Rainbow is the presentation of Tobacco's music in a traditional live setting;
"It's a really really grey line right now," he explains. "When it comes to recording and stuff like that, I pretty much do all of it. And then I got the people together who are the band to re-create it live. I always confuse the two, like I'll say 'we're recording a new album' or 'I'm going on tour' but almost 100 percent of the time it's me doing the writing or recording. Then I'll bring it to them to either reinterpret it or come up with something on their own for when we play live."
Discography
Edit
Full Lengths
EPs & Singles
Collaborations