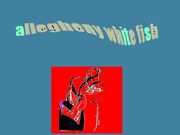 Allegheny White Fish
is
Tobacco
and
Power Pill Fist
's earliest known band. The band existed from around 1996 until around 1999, and included other members Doug and Justin.
Band Biography
Edit
Allegheny White Fish was the first band of Tobacco and Power Pill Fist, the core lineup that would later form Satanstompingcaterpillars and Black Moth Super Rainbow. The band was formed while Tobacco was in high school; Tobacco recently contemplated the choice of band name, which is Pittsburgh slang for a used condom floating down the Allegheny river[1]: "We were all so happy with ourselves for coming up with that name in 10th grade, but it wasn't too funny 4 years later."[2]
Not much is known about the general sound of the Allegheny White Fish recordings due to the fact that nearly none of their albums have surfaced, but Tobacco has described the sound as "really noisy and abstract"[3]. Furthermore, not much is known about the other members Doug and Justin, and what role they played in the band.
In the summer of 2009, Tobacco released The Allegheny White Fish Tapes, a collection of tracks from all of the known Allegheny White Fish albums.
Allegheny White Fish Discography
Edit
EPs and Full-Lengths
Released as Tobacco
References
Edit