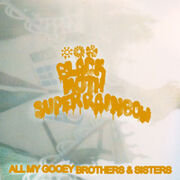 All My Gooey Brothers And Sisters was a Black Moth Super Rainbow "targeted release" from 2010, as an experiment to [quote] see if music sold on the internet can stay off the internet.
CD Release
Edit
At least one CD copy of the album has been sold, but it is not known how many total were pressed. The album was not officially released.
Tracklisting:
Another Place
Purple Poison
Old Yes
All My Gooey Brothers And Sisters
Marigold Margret
Peanut Butter Lung
Devil's Den
Faded Lawn
No Warmth

Two songs from the album "Another Place" and "Old Yes" were released on the Dandelion Gum "Extra Flavor" Re-issue in 2011.